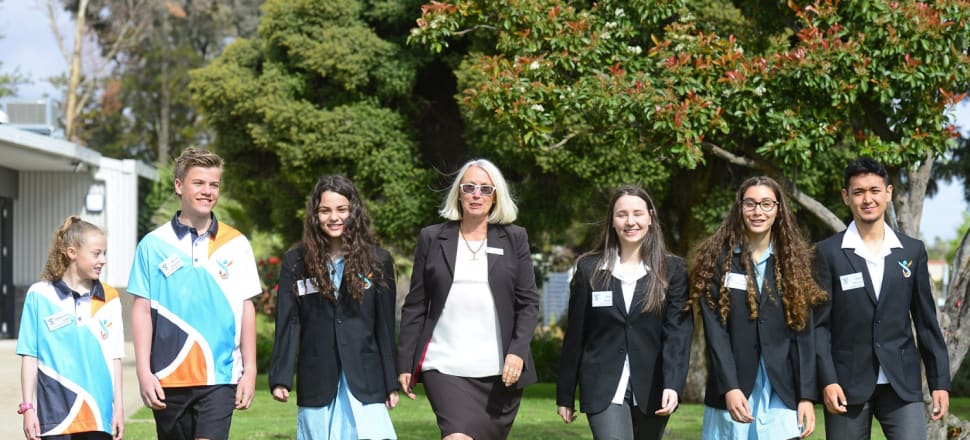 5370537724001
It was an announcement smorgasbord at McGuire College yesterday morning, as Victorian Education Minister James Merlino excitedly added more pieces to the Shepparton Education Plan puzzle.
Shepparton's divisive new secondary school will be known as Greater Shepparton Secondary College — the first of many announcements made by the minister on the day.
Along with the name, the school's new uniform and logo were unveiled, featuring the colours teal, orange, charcoal and white.
The school values — Aspiration, Integrity, Respect and Responsibility — were also announced.
Mr Merlino said these updates were important steps in the transition process, particularly towards creating cohesion within the school community.
"We want to make it (Greater Shepparton Secondary College) feel truly cohesive, particularly in this period of transition over the next couple of years," he said.
Already selected from their current schools, the Greater Shepparton Secondary College's 2020 leaders were in attendance on the day, with some showing off the new school uniform.
Member for Shepparton Suzanna Sheed congratulated the students on their new positions.
"It's going to be an incredible change in a lot of ways and it's going to provide you with a college to be truly proud of," she said.
Mr Merlino also announced all year 11 and 12 students will have free access to interactive online resources to help alleviate VCE stress in 2020.
"It will enable students to learn on an easy-to-use platform that can help with pre-class work, assessment prep and exam revision and homework," he said.
"The tool allows students to access free additional learning in their own way when they want it.
"Across years 11 and 12, this could save families hundreds of dollars."
Mr Merlino said the Victorian Government's School Breakfast Clubs Program will be rolled out at the new school next year, which will include free and healthy breakfasts, lunches and school holiday packages for students who may need them.
In the 500 schools where it has already been rolled out, Mr Merlino said data shows 95 per cent of teachers had noted a greater level of concentration in their students, 90 per cent greater level of engagement and focus and an 88 per cent improvement in students' social skills.
"We know it makes a difference," he said.
It was also announced all year 7 students will receive a free stationery pack to help with their secondary school transition process, as Mr Merlino handed out the first packs to four Mooroopna Primary School students.
"It's just a bit of a boost in making that connection to the brand new school and providing some support to the parents," he said.
Excited by the future, Mr Merlino said the department was working hard to continue mitigating community concerns.
"This is the most exciting and important education project in regional Victoria," he said.