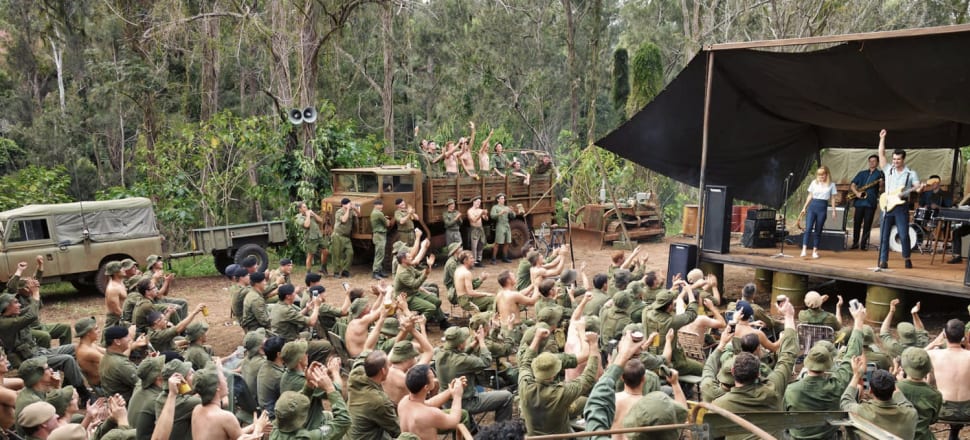 5370537724001
Shepparton Vietnam War veterans have said a new Australian film about the ferocious battle of Long Tang is highly realistic and confronting.
More than 150 Shepparton district Vietnam veterans with family members and friends packed out an advanced screening of Danger Close at Village Cinemas in Shepparton last week before the movie went on general release.
The film depicts the intense fighting that took place across three-and-a-half hours during a monsoon downpour in a rubber plantation in the late afternoon of August 18, 1966, when a single infantry company of 108 mostly inexperienced Australian and New Zealand soldiers engaged with a regiment of 2500 battle-hardened Viet Cong and North Vietnam army troops.
The battle saw the largest Australian losses on a single day in the Vietnam War — 18 dead and 24 wounded. Viet Cong casualty numbers were officially recorded as 245, although this number has subsequently been disputed as too low.
Danger Close was filmed in Queensland, directed by Red Dog director Kriv Stenders and features Echuca's Vikings star Travis Fimmel as Major Harry Smith, and Rake star Richard Roxburgh as Brigadier David Jackson.
Shepparton RSL president Bob Wilkie said the film brought back a lot of memories.
"It was personally very confronting to watch. It was very realistic," he said.
Mr Wilkie served in Vietnam with the 4th Royal Australian Infantry from April to December 1971 based at Nui Dat — the same army base where the film is set.
"I was in a very similar situation," he said.
Mr Wilkie took part in the Battle of Nui Le on September 21, 1971 — the last major battle fought by Australian and New Zealand forces in Vietnam.
Five Australians died and 30 were wounded at Nui Le when ANZAC forces engaged a large enemy force in a well-defended bunker system to the north of Phuoc Tuy province.
Mr Wilkie said the battle scenes depicted in the film were close to the reality he remembered.
"It's pretty scary and very intense, and you have to look after your mates," he said.
He said after the film finished, he did not hang around to talk to other veterans.
"I just went straight home with my wife — I didn't really want to talk to anyone," he said.
Shepparton's Brian McInneny was a 21-year-old Private in the 1st Battalion Royal Australian Infantry Regiment when he was cut off behind enemy lines with fellow diggers during the Battle of Coral-Balmoral in May 1968.
"Eighteen of us were overrun in the early morning. Three were killed and eight wounded," he said.
"We had our artillery behind us and they lowered their guns and we were told to get our heads down while they fired over us," he said.
Over three intense weeks, 26 Australians were killed and 100 were wounded at Coral-Balmoral.
Mr McInneny agreed the action depicted in Danger Close was confronting and realistic.
"It's the best film I've seen presenting the Aussies in Vietnam — there's no gung-ho stuff, but it's war at its rawest, and it also shows the Aussie larrikin spirit," he said.
Although it has taken him years to deal with the memories of war, Mr McInneny now talks to classes of school students about his experience.
"The first time I broke down, but it's become a lot easier. Speaking to schools has helped me confront what happened," he said.
Shepparton's Ron Thorp was a gunner in the 4th Field Regiment and took part in the Tet Offensive when the Viet Cong conducted a series of surprise attacks from January to September 1968.
He said the the film's researchers had done their homework.
"I thought they did a really good job — the gun positions were as I remember them — it was what I expected to see. The most dramatic thing was the artillery falling — I had seen it fall on the ground during training and the film felt like that. There were a few little things I didn't feel were quite right, like the fire orders, but overall they did an excellent job," Mr Thorpe said.
Mr Thorp attended last week's advance screening with his son. He said he would recommend the film to anyone as an accurate record of the Aussies in Vietnam.
"It shows the nitty-gritty of what it was like to be there — it's a good depiction of what happened," he said.
Remembrance Day
Goulburn Valley Vietnam Veterans Association will hold a Vietnam Veterans Remembrance Day ceremony at the Shepparton Cenotaph on Sunday, August 18 from 11am.
The day marks the 53rd anniversary of the Battle of Long Tan in which 18 Australian soldiers died and 24 were wounded — the greatest Australian loss in a single day during the Vietnam War.
The day also commemorates the 521 Australians who died and the more than 3000 people who were wounded or suffered illness as a result of the conflict.