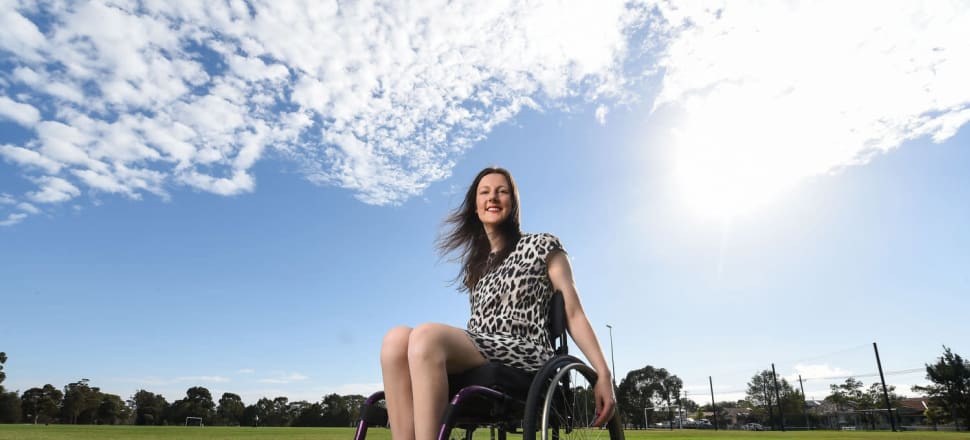 5370537724001
By Natalie Campbell
This Saturday marks one year since a Euroa woman endured a near-fatal car crash on her way to work in Shepparton.
Just months out of rehab, Emily Quattrocchi has returned to the world of competitive cheerleading in Australia's first ever ParaCheer team.
At 8.30am on July 20, 2018, Emily's life was changed forever when her car collided with a tree on the Euroa-Strathbogie Rd. She was kept in an induced coma for almost two weeks after the accident.
When Emily woke up, she was paraplegic.
In February this year, she left the Royal Talbot Rehab Centre having finished her seven-month-long rehabilitation process. Since then she has been conquering challenge after challenge, in an effort to regain her strength.
''I was in the hospital until the end of September, and then I went to rehab and learnt all about how to live with a spinal injury,'' she said.
''I got stronger. I learnt how to transfer, how to use a manual wheelchair, and I just kept improving.''
For one month after the accident, Emily lived with a tracheostomy to assist with breathing. The operation prevented her from speaking and being able to swallow food or water.
She said one of her biggest feats in rehabilitation was finally rediscovering her taste buds.
''When I got to have my first meal and my first chocolate, I got it all on video.''
Maintaining her love for videography, Emily is now premiering a short film at the Lorne Film Festival on July 27. The documentary will showcase all the challenges and triumphs of her long recovery.
One hardship Emily faced during her recovery was not being able to attend her university graduation. She graduated before the accident last year but was not in a condition to participate at the ceremony.
Once again, she picked up where she left off, attending the 2019 graduation ceremony, to claim the cap she earned in her Bachelor degree of Media and Communication.
Before the car accident, Emily's athleticism took her all over Australia.
''I started cheerleading through my university, Deakin. I did it for five years with them and another club called Southern Cross Cheer,'' she said.
''I travelled around Australia, competing in Queensland and I loved it.
''While I was in hospital I was really sad because I thought I would never be able to cheerlead again.''
In hospital and unable to walk, Emily saw a ParaCheer video online and knew she had to pick up where she left off. She contacted the head coach at her club, Southern Cross Cheer.
''I said how can I do this? And he said he could help me.
''Because (ParaCheerleading) is not in Australia, I'd never heard of it.''
ParaCheer is a new sport that made its competitive debut at the 2017 Cheerleading World Championships in the United States, with the help of the International Cheerleading Union. The sport allows people with any sort of physical or sensory impairment to participate in adaptation of cheerleading.
''A team has to have 25 per cent of people with a disability,'' Emily said. But the sport is also open to non-disabled individuals who wish to be involved.
Emily left rehab in a wheelchair, and has since created Australia's first ParaCheerleading team in collaboration with her Melbourne-based club.
The Australian ParaCheer initiative launched on social media in May and quickly gained followers on the 'paracheerdownunder' Instagram page.
''A girl from New South Wales has messaged me. She has cerebral palsy and is really interested in joining a team,'' Emily said.
Two weeks ago, Emily's dream came true as she returned to the competition mat in Australia's first ever ParaCheer team. The performance was on show at AASCF's Winter Fest competition at MSAC in Melbourne.
A large audience attended to witness the launch of what Emily hoped was a growing sport in Australia.
Before her accident, Emily said her proudest moment in her cheerleading career was successfully completing a partner stunt — elevating another above her shoulders.
''I wanted to show that women can do it too. We can be strong.''
Despite suffering a brain injury and paraplegia as a result of the crash, one year later Emily still harnesses that strength into every second of her day. As well as cheerleading and videography, she has not given up any of her passions including basketball, tennis coaching and ParaDancing.
''Being paraplegic is not the end of the world it's just a different way of enjoying the world,'' she said.
''I'm grateful for all the things that I do have, such as eating. I'm grateful I don't have to wear my neck brace anymore and I'm grateful for being able to communicate, because I couldn't talk for a month.
''I've seen how much people care about me, and I've never experienced so much love before.''
Natalie Campbell is an RMIT journalism student on work placement at the News.