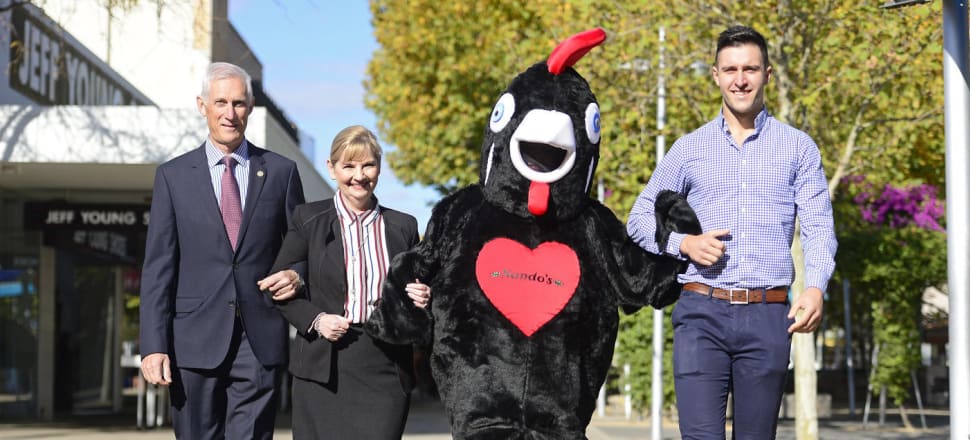 5370537724001
An ice rink, an inflatable ice slide, and plenty of arts and crafts workshops are just some of the activities planned to turn Maude St Mall into a family-friendly playground for shoppers during the winter holidays.
Announcing the Winter Fun Zone in the mall yesterday, City of Greater Shepparton Mayor Kim O'Keeffe said the council was working with a number of partners to deliver a ticketed ice rink and a number of complementary free activities aimed at bringing shoppers into the mall and surrounding CBD during late June and early July.
Cr O'Keeffe said the council anticipated up to 10000 people would visit the attractions including about 30 per cent from outside the regions.
She said Shepparton Show Me, Shepparton Chamber of Commerce and Industry and Nando's restaurant were partnering with the council to bring the activities into the mall during the holiday period.
Acting chamber president John Anderson said winter school holidays was traditionally a time when people left the region to spend their money in warmer climates.
''We really want to show locals they can enjoy themselves at home as well as encourage visitors travelling through to stay and enjoy the many great things Shepparton has to offer,'' Mr Anderson said.
He said the winter activities had been planned following the successful placement of a carousel in the mall during the Christmas and New Year period.
''It's all about making the centre of Shepparton a pleasant place to shop and do business. If it's successful, it will be bigger and better next year,'' Mr Anderson said.
Nando's Shepparton franchisee owner Anthony Trapani said it was a good initiative to provide activities for families to spend time together.
''We are all working hard to create a unique experience to attract more visitors and support the local economy,'' Mr Trapani said.
While the ice rink is ticketed at $6 for children and $12 for adults, other Winter Fun Zone activities such as art and craft workshops, facepainting and an ice slide will be free.
Winter Fun Zone will be in the mall from June 27 to July 14.