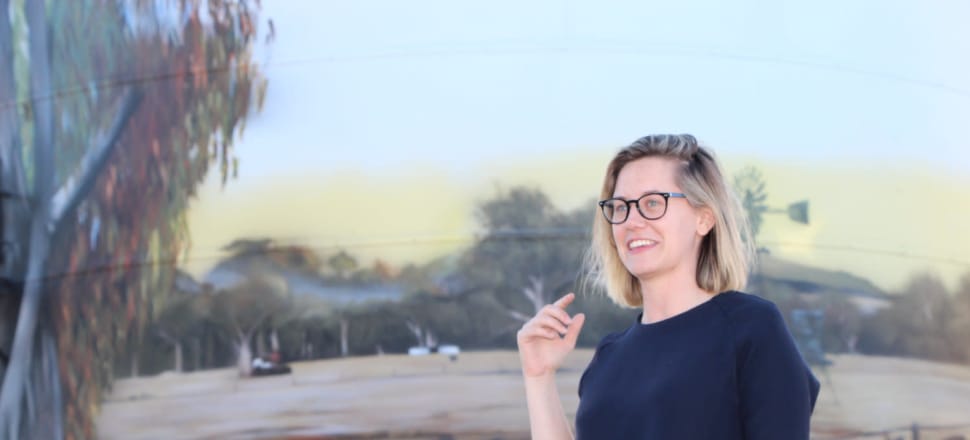 5370537724001
When the staff members of Healesville Sanctuary rounded the corner at Goorambat and suddenly saw the 20m tall mural depicting an animated barking owl, they collectively said: ''That's Milli''.
They were full of praise for the life-like painting of their treasured owl, who is one of the stars of the daily free-flight exhibition, Spirits of the Sky, at Healesville.
Artist D'Vate had a friend take about 300 photographs of the endangered owl, which is a native of north-eastern Victoria, in a bid to get the right image for the silo.
The alert and wide-eyed bird occupies the full height of the silo, and as D'Vate (known to the locals as Jimmy) pointed out, a horizontal bird in flight would not have fitted on the vertical canvas.
''She is an amazing creature,'' D'Vate said.
''We were honoured to be given access to view her in person. We took about 300 photos and eventually found the perfect angle.
''We were trying to find a dynamic pose, rather than just something static.''
D'Vate used about 150litres of acrylic paint and about 170 tins of spray paint for Goorambat's two silos, painted over 17 days, some of which were up to 12 hours long.
Only one day was affected by high winds, which was a danger for the extended cherry picker.
The rural scene painted on the second silo was an acknowledgement of the rural bush and farming landscape, which also included a bat, at the insistence of the locals.
At the silo art's official opening on April 7, community committee president Greg Gall thanked the silo owners, the Greaves family, for allowing the community to press on with the project.
Mr Gall said during Easter about 300 people signed the visitors' book and many people gave donations.
Major sponsor, the University of Melbourne, was represented by Dookie Campus director Ros Gall, who said she was keen for the college to play a major part as soon as she heard of the project.
''The university is a big supporter of the arts and this was a unique opportunity to combine the arts with agriculture and contribute to a local community,'' Ms Gall said.
While the university was doing some major work in the Parkville area of Melbourne, this was an opportunity for the rural region.
Faculty of Veterinary and Agricultural Science dean Professor John Fazakerley could not attend the opening, but wrote: ''The two pictures can be taken to represent the two schools of the faculty and their engagement with the land, the wildlife and the community''.
State Member for Euroa Steph Ryan praised the committee for its resolve in completing the project and congratulated D'Vate for accepting the commission.
She said the project could be transformative for the community and would be an exciting adjunct to the Benalla Wall to Wall festival.